Mayor Wu commends collaboration with BU at groundbreaking, says new building should be a model for other cities nationwide
Boston's coolest building is almost ready to get to work.
City and university leaders cut a ribbon Thursday afternoon for the groundbreaking ceremony for Boston University's Center for Computing & Data Sciences, an architectural centerpiece and shining example of sustainable design that will will be home to cutting-edge research and learning when it opens in late January after more than a decade of planning and three years of construction.
"We are in a data-driven revolution, and Boston University is committed to leading that revolution," BU President Robert A. Brown said from the building's grand central staircase, "and to to integrate computing and data science into all of our academic disciplines, not just to create applications, but to shape its ethical use in those applications.
They will do so in what Jean Morrison, the university's provost and director of studies, called "a truly remarkable building". The center, at 665 Commonwealth Ave., is 100% fossil fuel free, the greenest and most energy efficient structure BU has ever built, and one of the greenest buildings in all of New England. It is heated and cooled using 31 geothermal wells drilled 1,500 feet underground.
Boston Mayor Michelle Wu seemed moved by the center's carbon-neutral status. "I hope this building is an example of how each of us, each institution, each community, each individual, can have an impact on what often seems like a rather large and daunting set of challenges ahead of us," she said.
"Having one of our very large buildings saying very clearly that not only can we make it work, not only is the technology there, but we're going to prove it and live it and have a place where you can feel it and experience it — it's so powerful," Wu said, "and we hope to take that example and replicate it" across the city.
---

I hope this building is an example of how each of us, each institution, each community, each individual, can have an impact on what often seems like a rather daunting and daunting set of challenges ahead of us.

---
The center's opening, which occurred on a clear late afternoon that allowed the building's reflective exterior to shine, "is a critical milestone for the University and indeed for our lives," said added Ahmass Fakahany (Questrom'79), president of the BU. Board of Directors.
Designed by KPMB Architects in Toronto to serve BU's sustainability goals and built by Suffolk Construction, the $305 million center is 19 stories (or 305 feet) tall and has nearly 350,000 square feet of floor space. What most people are talking about is its unusual and controversial profile of cantilevered sections rising above the campus and the Charles River like a giant stack of books (the preference of the leaders of the BU) or a precarious game of Jenga (everyone).
"It's just not a Boston building. It is over there. It draws attention to itself," said Luigi LaRocca, founding director and project manager of KPMB. UB Today.
Wu said she was delighted with the design, although she joked that after recently passing the building on Storrow Drive while driving with her family, her children "are quite disappointed with the architecture of our house".
The most meaningful activity around the building, of course, will be the research and learning that takes place inside. As Azer Bestavros, Associate Provost for Computing and Data Science, detailed in an essay for UB todaythe Faculty of Computing and Data Science will strive to use cutting-edge technology to build a better and more equitable world through learning and collaboration that transcends disciplinary boundaries.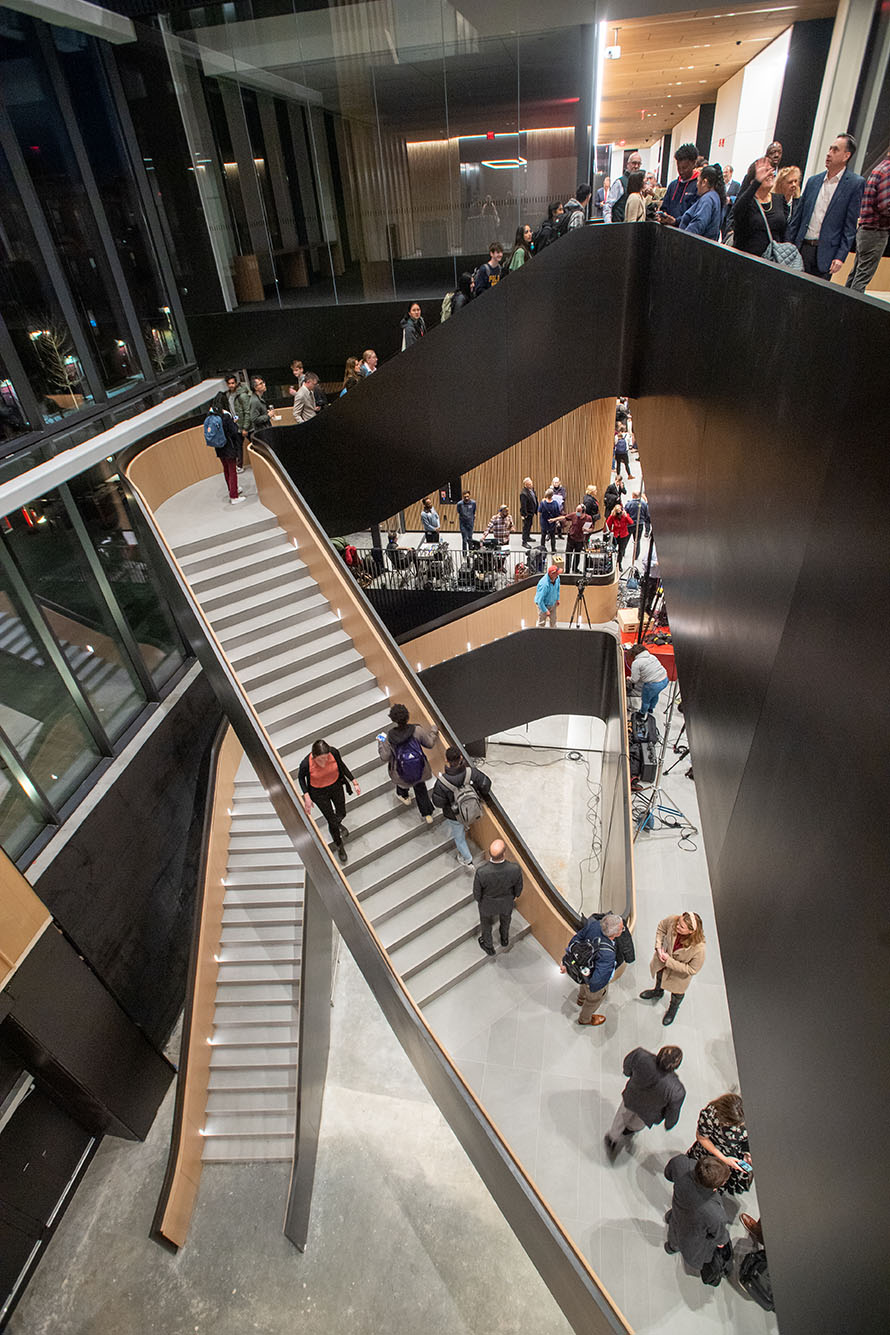 The building is designed to allow for this interdisciplinary approach, with plenty of open space for collaboration: public spaces on the lower floors, including the striking grand staircase where the ceremony was held; classrooms and laboratories for the Mathematics and Statistics and Computer Science departments of the College of Arts and Sciences on the middle floors; and modern, flexible spaces for the Rafik B. Hariri Institute for Computer Science and Computational Science and Engineering and the Faculty of Computing and Data Science on the upper floors. It will also house associated programs, such as the SPARK BU! entrepreneur incubator.
Brown, Wu, Fakahany, Morrison and Bestavros cut the ceremonial ribbon with Boston City Councilman Kenzie Bok and Dean of Arts and Science Stan Sclaroff. They were joined for the ceremony and a reception by several hundred guests, including many BU administrators, faculty and students, city officials and area business representatives.
The center was built (watch a slideshow) on a BU-owned plot at the corner of Granby Street and Comm Avenue that was once a parking lot, and before that, a Burger King. It will certainly take pride of place among the city's greatest architectural successes, such as the Custom House Tower and the old and new John Hancock buildings, although in terms of style it stands out from more recent landmarks like the Leonard P. Zakim Bunker Hill. Memorial Bridge and the Institute of Contemporary Art/Boston.
Its exterior glass and steel surfaces are carefully designed to provide a sometimes startling spectacle, whether in bright sunlight or internally lit at night, but are also designed to limit direct sunlight entering the building and support sustainability goals.
The groundbreaking ceremony also included a touch of rivalry between Charles River. "You can't miss it on the horizon," Fakahany said, earning laughs and applause when he added, "Harvard and MIT can enjoy it every morning with their coffee."
#Unveils #Spectacular #FossilFuelFree #Center #Computing #Data #Science